I haven't blogged in what seems like forever. I promise I will blog a lot more from now on! Hopefully, it'll be interesting enough to keep your attention!
So
, when I first got my ultra glamorous job as a graphic designer (ha), my mother bought me a bag to use to cart my wares back and forth to work. That was two years ago. Now its pretty much fallen apart, sadly... so now I have to find a new bag. Here are a couple bags that have caught my eye in the past couple of weeks. Which one melds stylish youthfulness with masculine sophistication the most?
1. Padded laptop/Briefcase
from Fitson (http://www.filson.com/)
I'm really digging this bag. This bag has evolved from a family of extra-durable apparel and clothing that dates from 1897. Real manly stuff. Maybe a guy who wears old spice and backpacks on the weekend will ask me where I got my bag. Love and Marriage will ensue.
$285.00
2. Lacoste Duffle Bag
from Saks Fifth Avenue (http://www.saksfifthavenue.com)
I've been eyeing these for a really long time now. It looks like the perfect size for a weekend trip to New York, an stylish piece of luggage for overnight business trip, or a holiday visit with the family. Yet, this seems a little too casual to bring to a meeting. I'm trying to
seem
be more mature. Still, can't you see me glamourously exiting the Hampton Jitney in early June with this bag?
$190.00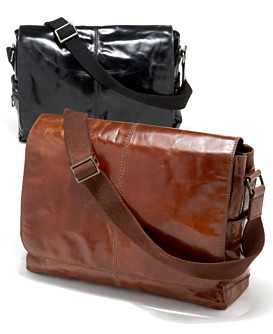 3.
Fossil Jackson Leather Messenger Bag
from Macy's (www.macys.com)
Four words: stylish, classic, simple... shiny? What else do I need? Unfortunately, I need more than one pocket for all the crap I lug around. Don't want to fish around for what I need. Am I right bag ladies?
$158.00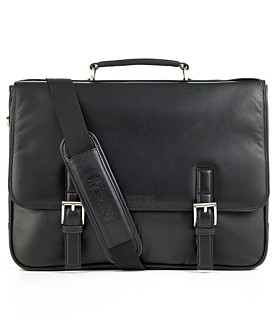 4.
Kenneth Cole Single Gusset Expandable Messenger/Computer Case
from Macy's (www.macys.com)
I think I may have found the one!
This lovely tote does double duty as an everyday messenger and smart computer brief. Sleek and stylish, the expandable main compartment holds a full-featured organizer and padded laptop pocket for my future computer, however that may come to me. At least I can save more with how affordable this is!
$99.00
More on my fashion tribulations later this week!